Home >> Utah Lakes >> Deer Creek Reservoir
---
Deer Creek Reservoir
---
Description:
Elevation: 5417 ft.
Surface Area: 2965 acres
Volume Capacity: 193,614 acre-feet
Max. Depth: 137 ft.
Avg. Depth: 65 ft.
Current Conditions:
Last checked for updates: 5/21/2021
Current Conditions
Day-Use: Open.
Summer rates apply. $15 per day per vehicle on Weekdays and $20 for Weekends and Holidays
Reservoir Surface:
Open water.
Water Temp: ~58 degrees. Click here for live water quality data.
Water Level: 80% full. Click here for live Deer Creek Reservoir data.
Main Boat Ramp is OPEN.
Island Boat ramp is OPEN.
Charleston Boat ramp is Open.
Fishing Conditions: wildlife.utah.gov/hotspots/deercreek
Additional Fishing Info: Fisherman reporting good success of Rainbows.

Camping Info CAMPGROUNDS ARE OPEN
Chokecherry Campground – OPEN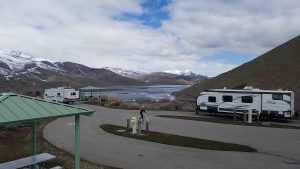 Great Horned Owl Campground – OPEN.
Reservations are recommended for summer camping, and can be made up to 4 months in advance. Unreserved camp sites are first come first served day of only. Reservations accepted between May 7th and October 15th.
You can make campground reservations online
or call 1-800-322-3770.
Dog Information:

Deer Creek State Park is a watershed, thus dogs are only allowed above high water level. Dogs are not allowed in the water or on boats.
Aquatic Invasive Species Information– We encourage you to continue to clean, drain and dry to prevent the spread of mussels.
ANY boats coming from infested waters such as Lake Powell, Nevada, Colorado, Montana, California, New Mexico, Arizona and Mexico and Canada MUST be decontaminated BEFORE entering Deer Creek reservoir. Decontamination are only available at the Main park area and no longer available at the Island Ramp. For more information, visit STDoftheSea.com
Decontamination Schedule:
Please call for decontamination schedule, 435-654-0171.
Summer Fees- April 15 – Nov. 1, $20 per vehicle weekends & Holidays, $15 Weekdays
Deer Creek Island Resort offers boat rentals, food, convenience store, and wedding parties, call (435)654 2155 to make a reservation. Closed after Sept. 15th.
Uinta Kiting offers kite surfing lessons call (435) 647-6676.
Zipline Utah offers year-round zip line tours in the Rainbow Bay day use area, call (801) 367-2575
Island Aqua Park is closed for the season.
Deer Creek Reservoir is located on the lower Provo River at the top of Provo Canyon, only about 25 minutes from the Provo/Orem area. It is approximately 3000 acres. The entire shoreline of Deer Creek is publicly owned, and access is completely unrestricted. There are two main boat ramps, one at the state park, and the other at Rainbow Bay near the island).
Water levels fluctuate annually based on yearly snowpack and runoff totals as well as water usage by downstream water users for both culinary and agricultural uses. The fluctuation in water levels also affects fish populations and many species of fish tend to go in boom and bust cycles.
For example, perch populations grow substantially during high water years when there are lots of rocky and weedy shoreline areas in which they can spawn and survive predation long enough. Smallmouth and largemouth bass populations follow a similar trend. When water levels decline, there is nowhere for young fish to hide and they quickly fall prey to large predatory fish such as walleye, largemouth and smallmouth bass, and brown trout.
Deer Creek is a very popular water for Utahns who like to boat and fish, due to its close proximity to the Wasatch Front and its easy access. It is located in the Heber Valley, at a crossroads of sorts between other fishing destinations such as Strawberry Reservoir, Jordanelle Reservoir, and Utah Lake.
Walleye are probably the most extreme example of boom and bust cycles. In good water years, prey species (which include yellow perch, young smallmouth bass, bluegill, and trout) multiply dramatically. This causes a corresponding increase in Walleye populations. During drought years, or after the predator population gets too large, they literally eat themselves out of house and home, and this causes a crash in the prey populations. Once the prey base has dwindled, the walleye themselves crash, and then the cycle continues.
Fish Species:
Current Regulations:
Statewide catch/possesion limits
Dead yellow perch are allowed as bait on this water
White bass and Bullhead catfish must be immediately killed if caught (no catch limit on either)
As always, refer to the current year fishing guidebook. This site not guaranteed to be kept current.
Back to Top